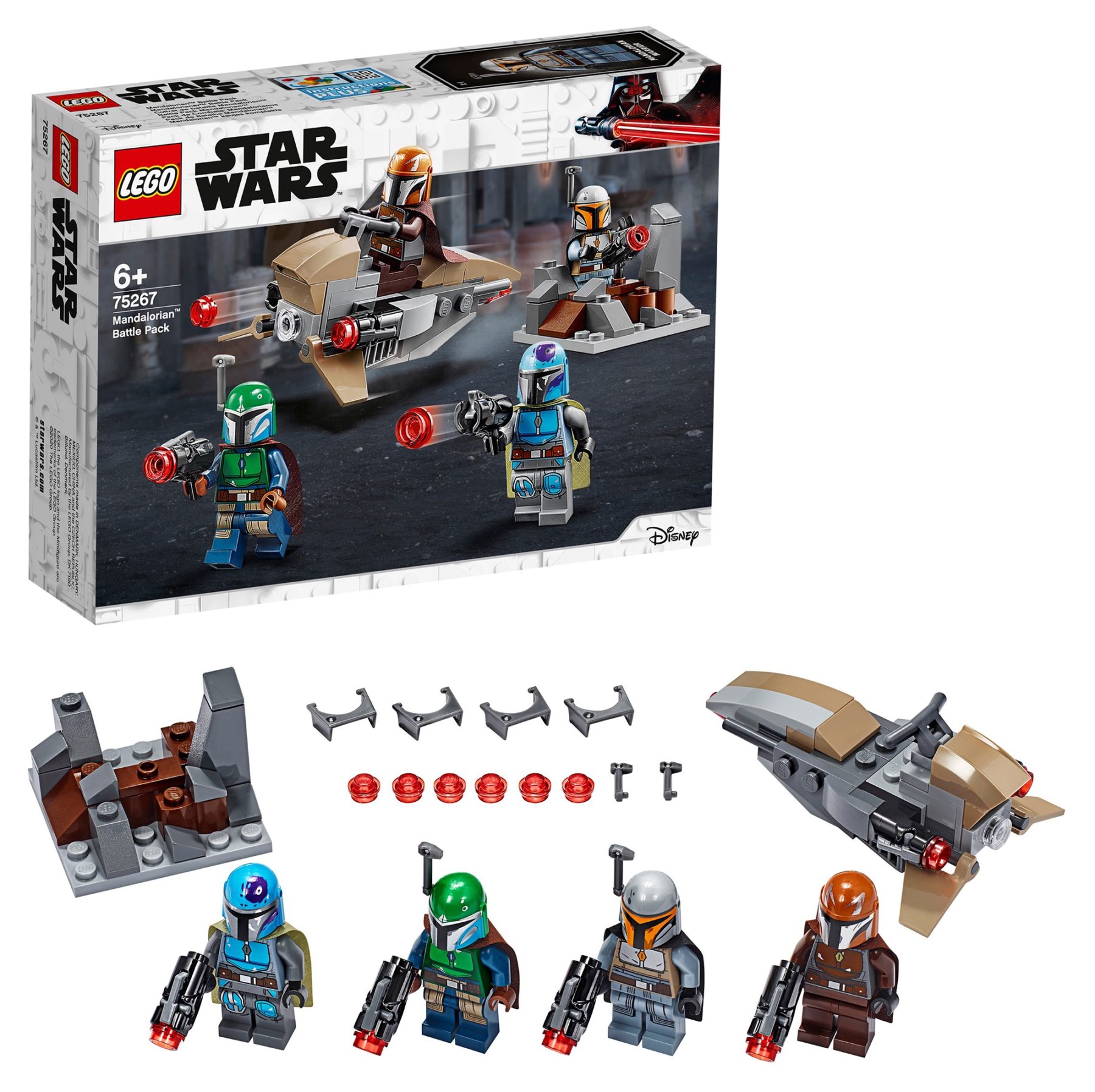 Now that Disney has purchased and is running the Star Wars Franchise, there is a new Series on the Disney+ channel, The Mandalorian. I want to let you know that this post might have some spoilers for the series, so if you haven't seen it yet, you have been warned.
The Mandalorian is a new series based on the Star Wars movies. At this moment, I don't know if it happens before or after the timeframe of the movies, but I have a strong feeling it happens before. This is because they use the same uniforms as Jango and Boba Fett, but they don't follow the same rules that guide the Mandalorian guild. I'll tell a little more about that in the Minifigure section below.
LEGO 75267 Release Date
The Mandalorian Battle Pack LEGO set is scheduled to be released early in January 2020. Based on previous releases however this set might be released on Dec 26, the day after Christmas. I base this of off previous releases in earlier years, as well as the fact that some of get a little extra money for the holidays, and LEGO wants us to spend it on them – which I always do. This is not a VIP only release as far as know. I expect this series of sets to be available at both the official LEGO store, as well as 3rd party retailers like Amazon, Target, and Walmart.

LEGO 75267 Pieces & Minifigures
There are 102 pieces in this set, including 4 minifigures. Each is a bit different and LEGO is calling them Mandalorian Warriors (on the box). According to the show, the armor is custom and every Mandalorian's is a little bit different. And one of the tenants of their way of life is to never take the armor off. Also called Beskar, the armor has several different parts, the helmet, shoulder pieces, breast plate, forearm guards, and other pieces, and can be made of different materials. That's what is represented here, in this set.
You can see four different helmet colors – some with battle scars: orange, white, blue, and green. The torso and leg pieces are painted in a similar, matching color.
LEGO 75267 Price
I expect this set to be priced at $14.99 US and will be on sale starting January 1, 2020.

LEGO 75264 Review
Right now as of the time of writing this blog post, this set is not yet released. What I like about these battle packs is that you get a lot of minifigures for not a lot of money. In addition to the 4 Mandalore, there is also a small speeder ship and a cannon station Plus a bunch of stud shooters included, according to the photos.
These images are from Stonewars.de. I will replace them with my own images as soon as I get this set.
If you want to see when I open the set and build it in real time, follow me on Instagram where I frequently do live feeds and Lego Instagram Stories of new sets. This year my goal is to buy and review every single LEGO set made in 2020.