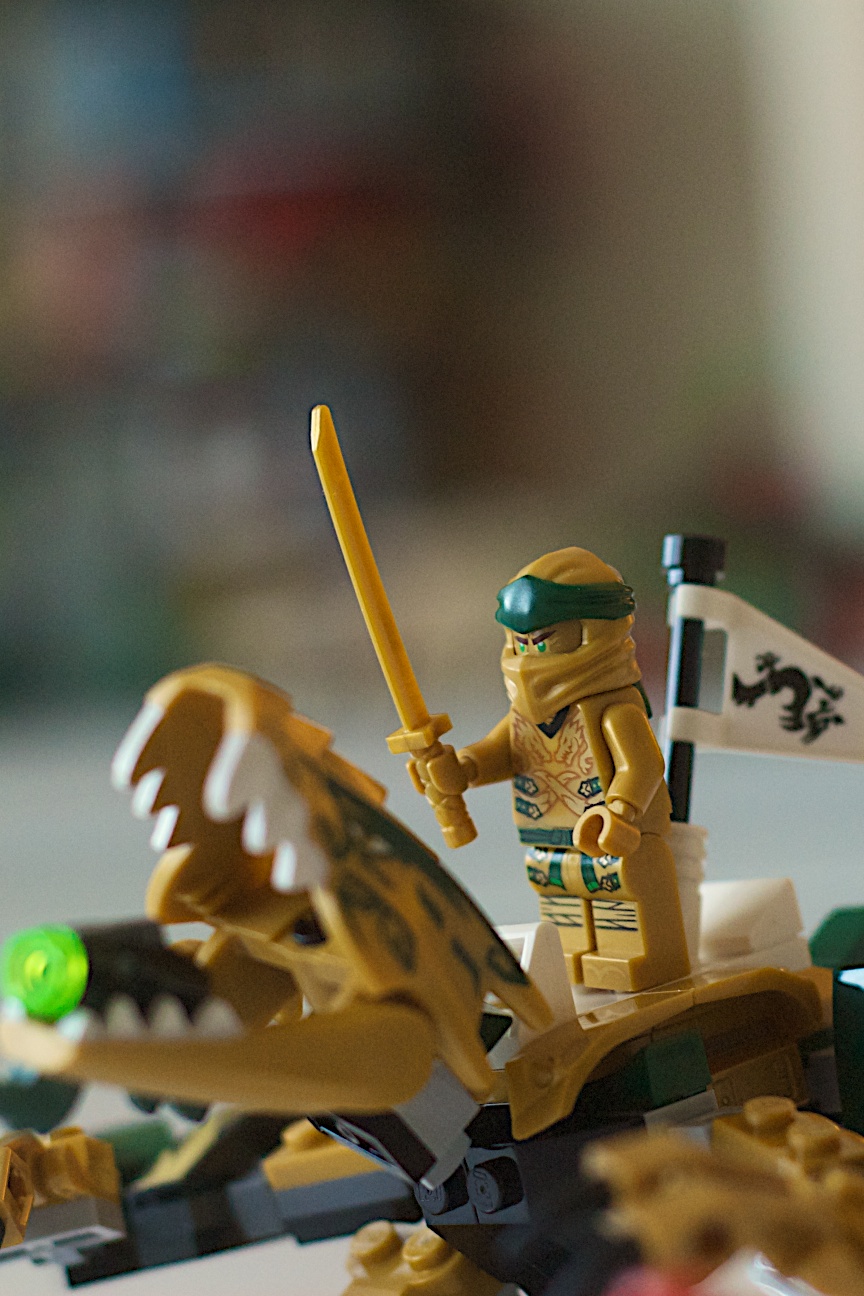 Watch Golden Lloyd fly on the new Ninjago Golden Dragon, as he fights Overlord and the Stone Army Scout.
Lego 70666 Ninjago The Golden Dragon is a new 2019 set that was released in January of 2019, but I spotted it on the shelves of my local Target store a few days early so I grabbed it. It has 181 pieces and is labeled for ages 7 and up. Even though this is an easy set to build, it still has a few pretty small parts and you need to be careful around little kids.
LEGO 70666 Pieces & Minifigures
LEGO Stone Army scout with

LEGO Ninjago Overlord

LEGO Golden Lloyd
There are 171 pieces in this set, including 3 minifigures. You get a Golden Ninja Lloyd, Overlord and Stone Army Scout. Plus you get a brick built Golden Dragon with a saddle for a single minifigure to stand in, adjustable wings, legs and a tail that you can move and pose, plus a stud shooter,
In this set there are 2 numbered bags, one instruction book, a small bag with the Dragon's head, and a small sticker sheet.
The first bag builds the bad guys, the Overlord, and the Stone Army dude. Plus it makes the torso of the Golden dragon, and the tail.
Most of the connections for the dragon use a ball joint connector so they can move and be posed.
Bag 2 has Golden Lloyd, and the feet and wings and head for the Golden dragon.
At one point I made a mistake in building and put the flag on upside down. It has stickers that can only go on one way, but I put the whole thing on backwards, and took the photos.
LEGO 70666 Review
If you are looking for a good beginner set, one where your kid can do it alone, or with minimal help from an adult, this is a good starting place.
There are a lot of smaller pieces, but nothing too complicated in the build. No technics pieces, or strange connections that are difficult to figure out. The hardest part is the left and right sides of the Dragon, which look similar but are mirror images of each other.
When you open the mouth of the Golden Dragon, you can see the stud shooter!
As for weapons, you get a golden Katana sword for Golden Ninja Lloyd's, Overlord's blade spear and Stone Army Scout's crossbow.
If you want to see when I open the set and build it in real time, follow me on Instagram where I frequently do live feeds and Lego Instagram Stories of new sets: https://www.instagram.com/thebrickland/
LEGO 70666 Release Date
This set was released in January of 2019. I got lucky finding this set a about a week early. It was the day after Christmas and I went to my local Target store to look for the new LEGO Movie 2 sets that were released, and saw this single set, on the shelf. There was no shelf tag, and this was the only box, so I grabbed it, and made this early LEGO review for you.