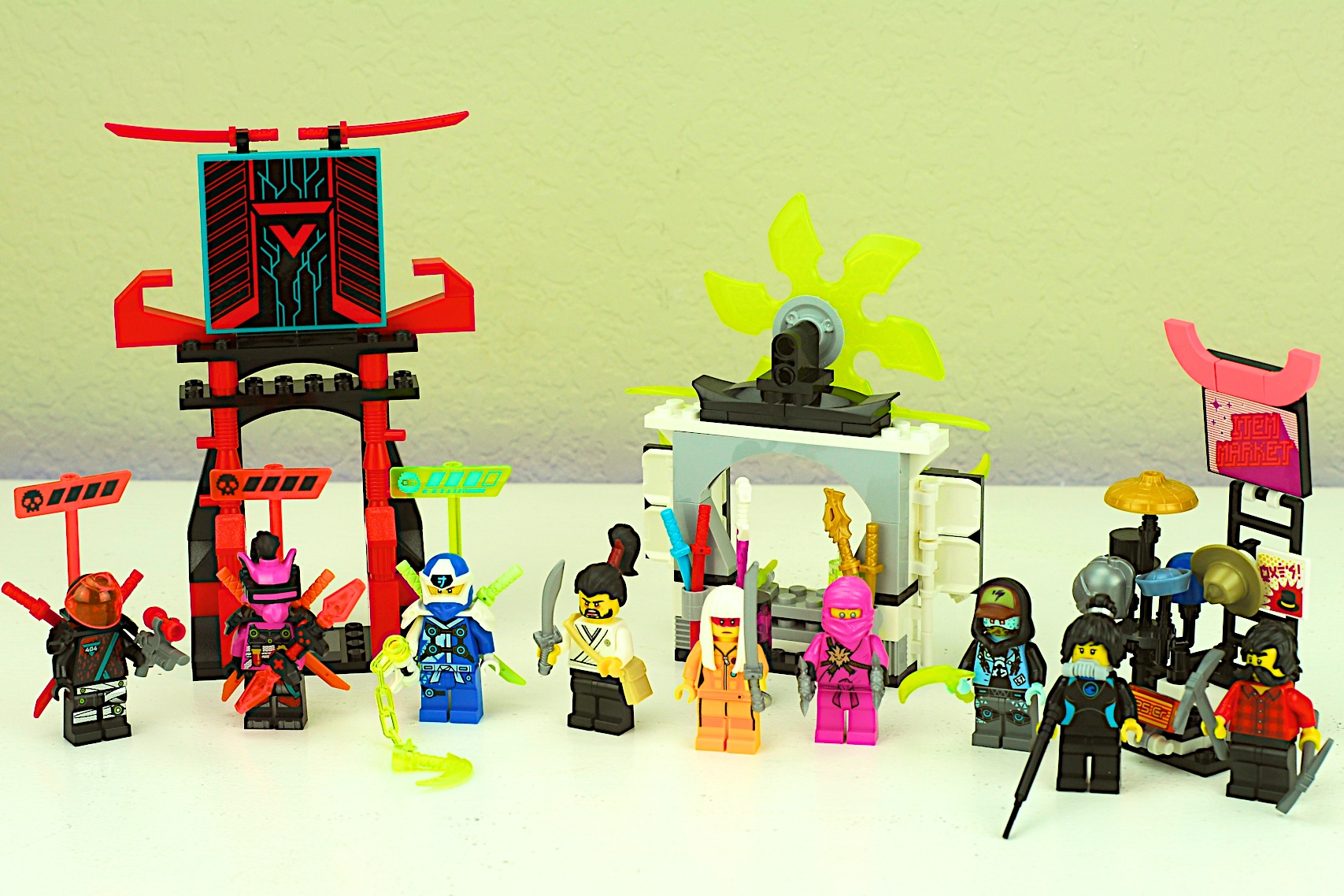 Some people like LEGO vehicles. Other like LEGO Mechs. I'm a big fan of ciy scenes made out of LEGO, and that's why the 2020 LEGO Ninjago Market Place is one of my favorite sets from the series this year. It comes with 9 minifigures and 218 pieces so you can build and play all afternoon long.
LEGO 71708 Ninjago Market Place Release Date
The new Ninjago 2020 Market Place set is scheduled to be released early in January 2020. Based on previous releases however this set might be released on Dec 26, the day after Christmas, and that's when I got it from one of my local stores. This is not a VIP only release.  I expect this series of sets to be available at both the official LEGO store, as well as 3rd party retailers like Amazon or Target.
LEGO 71708 Ninjago Market Place Minifigures
There are 218 pieces in this set, and 9 minifigures including one that has the same outfit as Uma Therman's Character from Kill Bill. Even though she isn't in this set we get a Kill Bill minifigure (sort of). There are also a ton of accessories for the minifigures including swords ankatanas of all colors, video game controllers, and even a cool sword in the stone type play feature.
LEGO 71708 Ninjago Market Place Price
I expect this set to be priced at $35.99 US and will be on sale starting January 1, 2020, which makes this a great entry level set.

LEGO 71708 Ninjago Market Place Review
Right now as of the time of writing this blog post, this set is not yet released. When it is, I'll buy it and write my thoughts here. I'm really looking forward to all the different minifigures of course.
If you want to see when I open the set and build it in real time, follow me on Instagram where I frequently do live feeds and Lego Instagram Stories of new sets. This year my goal is to buy and review every single LEGO set made in 2020.